Finally got out today on my first goose hunt of the year! For this trip I was lucky enough to have 4 of my friends join me in the field. Left the house at 5:15am to head over to the farm we would be hunting to ensure we would be fully setup at day break. We had 3 dozen shells, 6 v-boards, 3 layout blinds and 2 makeshift blinds to accommodate us(amazingly enough the makeshift blinds worked great. 7am rolled around and we hadn't seen a single goose, at this point I was getting concerned I had dragged my 4 buddies out here this morning for a nice sunrise and some pleasant conversation. Don't worry I wasn't let down, 7:30 rolled around and here they came. One flock after another rolled in and proceeded to stay just out of reach to let loose the guns. Finally about 8:00 we had our first reachable flock and gun shots fired, unbelievably I was the one that connected (that never happens!). The next hour proceeded to bring flocks in but staying just out of range (that didn't always stop us from sending some shots there way). All in all this was a great day and extremely exciting. To finish off the day I pull back in the driveway and finally the corn field behind the house was cut and just calling my name. I am headed out tomorrow morning to give it a whirl so I will report back then.
[img]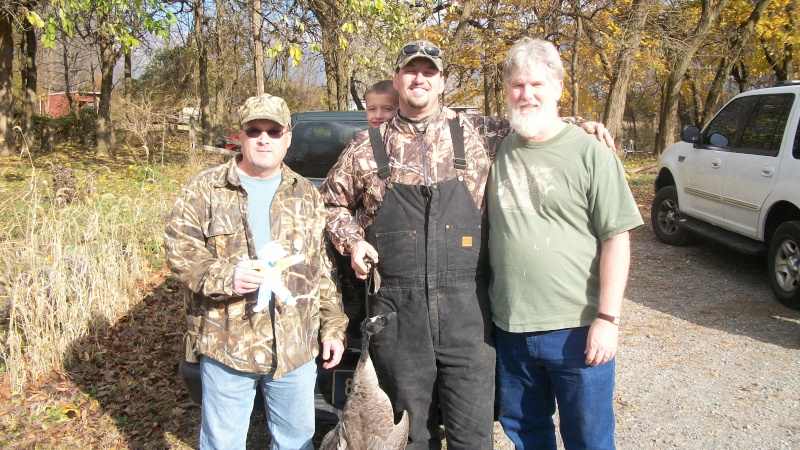 [/img]
Like the title of the story, one goose is better than no goose!

_________________
Maddox
You can't eat the horns!


REMEMBER: Please click "Register" and sign up so you can reply. It's free and their is no annoying marketing emails!


Similar topics
---
Permissions in this forum:
You
cannot
reply to topics in this forum