I have been dreading a move we are going to have to make at the end of May. We had been looking for houses for about 3 weeks without coming up with much. The real estate agent was coming up with junk so I was cruising around on craigslist to see what I could find. I know, I know you all are saying what the hell does this have to do with outdoor adventures....well hang on a sec I am getting there. I came across this house for rent calling out "Secluded Rancher", and after seeing the pictures below I couldn't dial the phone fast enough.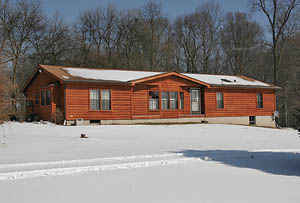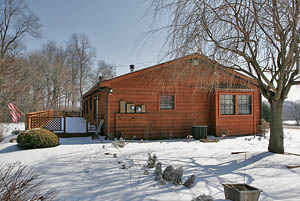 After speaking with a nice older woman for a few minutes we had an appointment to see the house in 2 days. We pulled up to the house and it was pretty much what I expected, a log cabin style ranch sitting back off the road on a farm. After our introduction and greetings with the extremely nice older couple they began to show us around. All I could think was I sure hope the wife is liking this house as much as I am, sure enough she was in! As we proceeded out to the deck and were chit chatting with the couple they began to tell me about their 35 acre farm and how long they had lived there. This was it, I was finally going to get to ask the question that had been burning inside "so Mary we love the house, the setting is beautiful, do you allow folks to hunt?". After a round about story she said "we don't allow the public to hunt but we do have one person we allow on the property. Are you hunter?" she asked. "Yes I am, it is one of my passions". Now I hadn't gotten the full answer of what I really wanted to know so I went with the more direct approach "if we were to move in here would you allow me to hunt as well?". Then the sweetest answer I could have imagined came out of her mouth "absolutely, the deer do so much damage around here we could use the help".
I can't F'ing believe it (excuse my French), a nice house on a 35 acre farm backing up to another 350 acre farm with a deer problem at that and I am moving in at the end of May. Some other features to note is a fully loaded bass pond which we can use at anytime and the fields look like they are going to be great goose hunting, more to come on all this after we get moved in and I get some preseason scouting done. Like I said I hate moving but the thought of walking off the ungodly sized deck on the back of the house and heading to a goose blind or deer stand is definitely worth the trouble!

_________________
Maddox
You can't eat the horns!


REMEMBER: Please click "Register" and sign up so you can reply. It's free and their is no annoying marketing emails!
Well, you dog! It looks sweet........you'll have to fill me in on the details over a few cold ones.

BS




Posts

: 1


Join date

: 2010-04-02


Age

: 54


Location

: Bear, DE.





Similar topics
---
Permissions in this forum:
You
cannot
reply to topics in this forum